Trails Tales and Transformations - Retrospective Photographs 1970-1999
Excerpt from the essay MAKING MAGIC AND DEFINING COMMUNITY by Allan D. Coleman
Curator's Statement by Tullio Petrucci
THIS THIRTYYEAR RETROSPECTIVE IS MORE than a revealing look into the mirrored reflection of a photographer's career. It showcases the immense diversity of Lucinda Bunnen's work. The exhibit's stunning variations meld into a kaleido scopic array of explorations and revelat ions. Within the work's diversity I saw a braid of three threads woven through the exhibit:
TRAILS—traveling and collecting,
TALES—creating a personal mythology, and
TRANSFORMATIONS—Experimenting and evolving.
These threads guided my choices of works to represent the progression of Lucinda's continual search for new imagery, new techniques, new visual styles, and new uses of photographic media.
The first thread in Lucinda's work reveals her unique encounters during photographic odysseys across America, in Europe, Morocco, India, Irian Jaya, Vietnam, Africa and China. Each spawned amazing tales for the second thread, tales that are often innately embedded in the images. Some journeys were, or led to, collaborations with other artists. Also, the selected influences she adopted from other photographers and artists are prominent in her collection of their work. Adding to the mythology thread, she has the distinction of being named (by American Photo, March/April 1995) one of the 50 most important collectors in the world.
The third thread of this retrospective is equally compelling. The images range from shrouded people to bursts of emotions and impressions. Earlier traditional styles give way to cutting-edge compositions that could predict aspects of photography's future. Experimentation and evolution are also evident in uses of the media: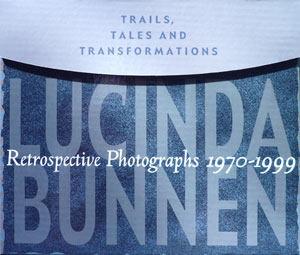 BLACK AND WHITE SILVER PRINTS
SOLARIZED PRINTS
PRINTS FROM INFRARED FILM
PRINTS FROM DOUBLE-EXPOSED NEGATIVES
PRINTS FROM SANDWICHED NEGATIVES
TYPE C COLOR PRINTS
CIBACHROME PRINTS
HEAT-PROCESSED WORK (A BUNNEN INVENTION)
3-D PHOTOS
GICLE PRINTS
PHOTOS IN GROUPS AND SERIES
PHOTOGRAPHIC COLLAGES
MIXED MEDIA COLLAGES
The show's vast assortment of subjects and styles form a continuum of transformations. F or Lucinda, variables are a constant, while the collaborations and experiments are an essential part of her discovery process. Another observation is that the entire braid woven through the retrospective is, in the artistic sense, Lucinda Bunnen's personal mythology.